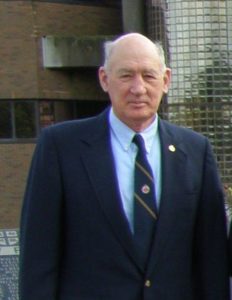 The 1st place winners of the Nautical Skills Competition are presented with a Plaque named in honor of Captain Jim Thorpe (R. James Thorpe), who was a member of the Master Mariners of Canada (NL Division) and a valuable mentor to the Marine Institute's Nautical Science cadets. Captain Thorpe's passion for student success was palpable as he proved to be a valuable source of information for the cadet technical reports. He was often found volunteering at the school, sharing memories of his own cadet and sailing experiences with the students. The plaque honors the memory of this lifelong respected and professional mariner.
Captain Jim Thorpe was born in Bridgeport, Connecticut, a son of a sailing family, all of whom were active in the Housatonic Boat Club, the oldest yacht club in the state of Connecticut. An avid Yachtsman, he attended Maine Maritime Academy, where he was involved with sailing and club activities. Jim sailed the world with American Export Isbrandtsen Lines as Deck Officer and Navigation Officer, obtaining a USCG license of Master, any gross tons. He also held a distinction of having served on the NS Savannah, the first, and one of the few ever built, commercial nuclear-powered ships.
Jim retired to Newfoundland with his family, where he collaborated with the Master Mariners of Canada among other projects. Jim was a mariner of the old school, a community builder, and a loving family man with an active circle of friends. His legacy remains an inspiration to young and seasoned mariners alike. Captain Thorpe passed away in January 2009 in St. John's.
At the first Nautical Skills Competition held in 2012, his wife Dawna Vivian and his son Lydon Thorpe presented the 1st Place Award in his honor.